Full-service moving Texas relieves you of all pressures and guarantees a smooth and efficient transfer. This extensive moving kit includes anything from packaging to storage to furniture arrangement. Choose this quality of service for the most relaxed moving experience. You'll never have to raise a finger again after you order your free quotes and book services. Movers with extensive experience arrive on time with supplies, tools, and a vehicle. They expertly pack and move your furniture to your new office or home. You can have a smooth start to your new chapter with the help of GetmoversTX!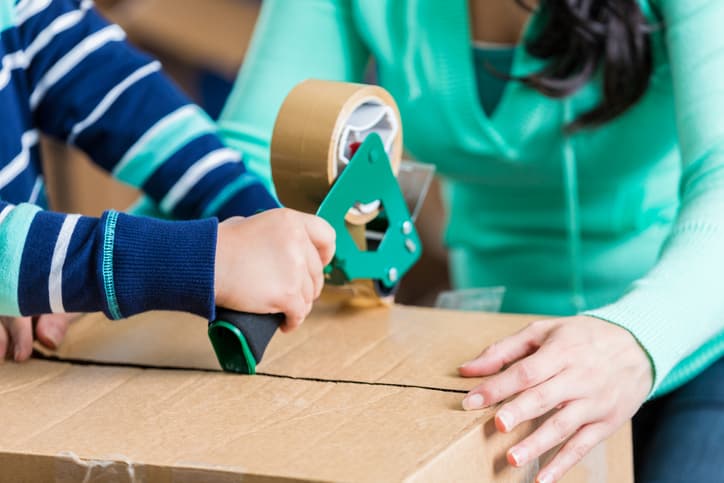 Services Included in a Full-Service Move
GetmoversTX connects you with moving professionals who provide the following services to make your transfer a breeze, regardless of the size or distance of your Full-service moving Texas:
Supply of High-Quality Packing Materials
It can be challenging to locate all of the required packing materials to secure your belongings. Several items are needed for a successful transfer, ranging from tape to moving boxes to furniture pads. The packers bring quality materials to ensure a safe and secure packing operation.
Furniture Disassembly and Wrapping
Do you dread disassembling your heavy or intricate furniture? No need to be concerned. Our movers do quick work of dismantling all types of furniture. Furthermore, they adequately cover your table to ensure that each piece is cushioned during transport.
Custom Crating and Packing
Your household's unique or expensive products, from oil paintings to curios cabinets, can necessitate custom packaging solutions. Full-service moving Texas carefully assemble sturdy crates and maneuver and ship your most prized possessions with expertise and care.
Unplugging Appliances
Our appliance movers have the required equipment and expertise to complete the job correctly. Washing machines, refrigerators, and dishwashers all have mechanized components that are easily destroyed. Professionals who have undergone special training ensure a stress-free shipment.
Moving Truck Loading
Leave the heavy lifting to the experts. Expert loaders handle the whole operation, from heavy boxes to awkward couches. This service protects you from possible harm and losses while allowing you to concentrate on what is important to you.
Transportation
It pays to employ dependable, licensed, and insured transporters when moving to Texas. You may be wondering; you can have complete confidence in your haulers when you work with GetmoversTX.
Keeping Things Secure
Space is one of the advantages of working for one of our relocation agencies. You may store extra things or your whole household in a self-storage facility or warehouse with only one provider. When all is packed, full-service movers will bring everything to your house.
Loading and unloading
When the freight arrives at its final destination, the moving crew works quickly to unload all of the contents from the moving truck. The efficiency and pace are a significant plus, allowing you to move into your new office, home, or apartment more quickly.
Arranging and Reassembling Furniture
The movers have now uploaded all. This is the stage where a full-service moving company shines. Movers can reassemble furniture, pianos, pool tables, and other items. Then, with your help, they put it precisely where you want it.
Pack and unpacking
It can be challenging to find household objects after moving into a new home. Your moving company should set up an organization system that marks, sorts, and records your belongings, allowing the moving crew to unpack and put them away quickly.
Removal of Debris
A debris management team removes any discarded objects securely and adequately, saving you the hassle of having to hire another company or rent a dumpster bin. A single business can handle anything from old furniture to garage junk.
Insurance for the entire value of the property
It will help if you rest easy knowing that your things are insured. If an object is damaged or destroyed during the moving process, a full-value policy may cover the cost of replacing it. Interstate movers are expected to offer full-value insurance cover to their customers.
Reasons to Hire a Full-Service Moving Company
Are you looking for the simplest and most convenient way to relocate? Full-service movers and packers are the way to go! Packing Supplies and Knowledge
Let's face it: driving is exhausting. You already have so much to work, life, and settling into your new neighborhood, city, or state. If you really don't have the time or resources to pack your things properly, we've got you covered. Relax as specialized and seasoned packers wrap, pad, and package your entire household. They arrive fully-equipped with packing supplies and experience, so you don't have to worry about a thing.
Disassembly and re-assembly of furniture
Do you have a large dining room table or a complicated work desk that you're dreading having to disassemble? There's no need to worry. You won't have to break out any equipment or worry about missing any pieces with the assistance of our packing partners (or stress over breaking anything). From the bulky to the complex, your furniture can be quickly disassembled, shipped, and then reassembled.
Loading and Unloading of Vehicles
Sure, you could rent a truck and do it yourself. However, if you want to save time and effort (as well as your back), our full-service choice makes it a breeze. You won't have to make much effort to move anything, from bulky couches to hefty pool tables. Our certified moving companies make the entire process simple, secure, and stress-free for you.
Transport of Your Personal Effects
This might not seem to be the most crucial consideration, but hiring the wrong company may result in damaged products and many regrets. Fortunately, we will put you in touch with well-vetted and experienced transportation professionals. If you're going across town or the country, you can trust that they'll handle your valuable cargo with the utmost care.
Pack and unpacking
Although packing is an integral part of the process, it is the unpacking service that makes a full-service choice appealing. When you arrive at your new apartment, the last thing you'll want to do is deal with unpacked boxes. Let Full-service moving Texas movers know where you want your belongings to go, and they'll handle the rest. That way, you will concentrate on getting settled in as soon as possible.
Disposal of Packing Materials
You might be shocked by the mountain of discarded boxes and wrapping material until the movers have finished unpacking it. Hundreds of cardboard boxes, packing peanuts, furniture pads, and bubble wrap will accumulate during a transfer. Our relocation partners dispose of everything correctly, so you don't have to deal with a huge mess.