Moving appliances is difficult to work… but it is well worth the time, effort, and cost. Taking your appliances with you while relocating to a new home is advantageous. You would not have to pay for new appliances or wait for the company to deliver and mount them. When you move into your new place in Texas, you will immediately begin storing perishable foods and washing and drying laundry. Transporting large appliances, on the other hand, raises many problems that we will solve. That's why we need professional appliance movers in texas to do the job.
Is it necessary to hire appliance movers?
Appliance movers are professionally qualified movers who specialize in shifting refrigerators, washing machines, dryers, and dishwashers. Each of these appliances has tiny, mechanized parts that must be moved with care. These sections are easily damaged if not treated properly. The longer the ride, the more likely damage will occur, so shipping your appliances with an inexperienced company can be risky if you're relocating to another state.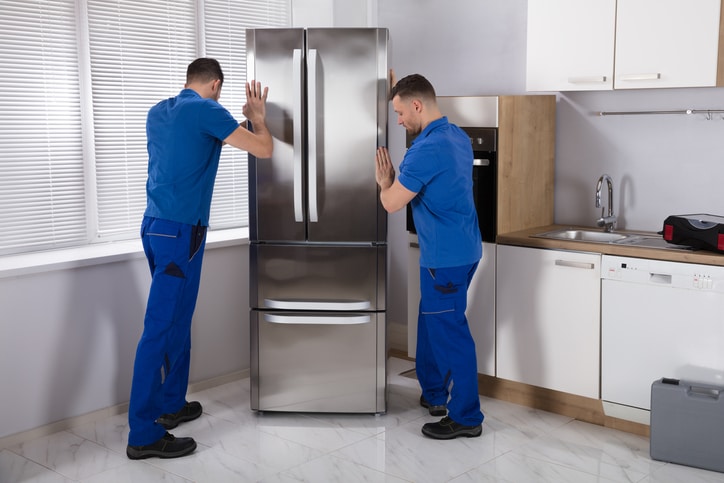 Attempting to move heavy appliances on your own can lead to serious injury. You can end up with broken appliances or damage to your walls and floors as a result of the transfer. Transporting your appliances to a new place with a licensed appliance delivery service is the safest choice.
Moving and Hauling of Home Appliances
GetmoversTX's certified appliance movers texas that have the necessary skills and equipment to complete the job correctly. The movers will arrive at your scheduled time with dollies, furniture straps. They will wrap appliances in padded blankets to protect knobs and fragile surfaces. Our professional movers' texas can securely load your appliances onto the truck and carry them to your new home.
Refrigerator Transporters
Until transporting your refrigerator, unplug it 24 hours ahead of time to allow it to defrost. This step gives enough time for the interior surfaces to dry and prevents mold and mildew growth. You should also empty it and separately pack any removable drawers and shelves. Our refrigerator movers lock the doors and electrical cords with tape. It is important to hold the fridge upright during the transfer to prevent compressor oil from leaking and causing permanent damage. We use appliance dollies to ensure that your refrigerator is handled properly.
Delivery of Washing Machines and Dryers
Our appliance movers texas ensure that the washing machine and dryer are properly unplugged and removed from the water supply. The surfaces of washing are delicate and should be covered during transport with padded moving blankets. Our movers are experts at transporting and installing appliances. We'll mount them in your new room and make sure they work properly so you can start washing and drying laundry right away.
Dishwasher Transporters
Our appliance movers texas also have a dishwasher relocation service disconnects the appliance from the water source and dries out the hoses. We wrap and mark small parts to ensure easy installation when you arrive at your new home.
When you move with GetmoversTX, we will assist you in locating the best appliance movers in texas in your city, whether you are planning a local or interstate move. You get the following advantages when you hire our appliance movers:
Fully licensed and insured, movers
Qualified to handle heavy machinery
Short-distance movers close me
Long-distance movers
Tools and equipment for proper appliance handling
Rates from low-cost moving companies
Moving to a new place in Texas is a daunting experience with several details to remember. You can make it easier by employing a specialist moving company to handle the transport of your refrigerator, washer and dryer, and dishwasher. These appliances are heavy and delicate, and they are easily destroyed. Our experienced movers ensure that the job is completed safely.